BEYOND POSITIVE THINKING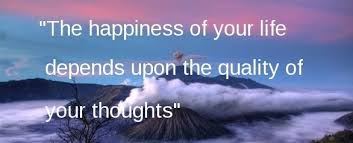 Getting Beyond Positive Thinking And being able to see the truth of a situation can be challenging.
Having studied Metaphysics for 25yrs and being a Science of Mind Minister I tend to see things differently than some others might. Because I am a meta-physician and I write about metaphysics I work at seeing beyond what appears to be real vs what may actually be happening.
This sometimes becomes a moral issue. Being raised Catholic and having found that religion did not work for me and then after many years of searching finding what works for me, can sometimes cause conflict within myself. I do not think that I am alone.
We end up being as adults products of other people's thoughts. From the time we start school and we are told what subjects to study, what is right or wrong and our parents also contributing to our being programed. Research has shown that the people with whom we spend the most amount of time with also influence our behavior.
So it is important to belong to a spiritual community of like minded people to enhance your own peace of mind. I seek a spiritual community that nurtures my spiritual growth and I become a part of it. This helps me get Beyond Positive Thinking and see the infinite possibilities of the universe.

 All that being said, can we really get beyond race mind thinking" that which is most popular in society" and really see the truth behind what appears to be real.
Beyond Positive Thinking
and It's Possibilities
Scenario: A woman has a son or daughter and the woman decides that drinking and drugs are more important than the child. She leaves the child unattended often while she is out at a club for hours. Child services takes the child. The woman gets a second chance. Then continues to do the same things.
Now someone with a lot of love, a really good person, maybe a relative kidnaps the child and gives this beautiful child a loving and nurturing home. The child loves there new parents and are very happy.
You find out what happened and you know where the child is. You know the mother. You know she does not care about anyone but herself. She is still drinking and doing drugs and only getting worse. What do you do?
Tell the authorities and do what appears to be the right thing. After all he/she is the child's mother. Or do you keep it to yourself knowing the child will have the life he or she could never have with the birth mother. Is this a moral issue or is it something that was supposed to happen for the child's own good.
Perhaps the child created it to be better off.
What do you think. I would really like to know.
Have A Great Story About This Topic?
We all need to stretch and grow. In our culture some ideas have kept us off course and prevented us becoming Good Stewart's of the planet as well as holding us back spiritually. Please tell me what you think.
What Other Visitors Have Said
Click below to see contributions from other visitors to this page...

Go To Mind Body Spirit Connection
Leave Beyond Positive Thinking