Daily Positive

Affirmations


Heal the Soul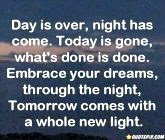 I am glad you found this page
Daily Positive Affirmations are a good way to start your day.
Knowing that what we think about most, will manifest in our lives, lets start our day off with the
I do not know about you? but I still have a few Character Defects. They say in the fourth step of Alcoholics Anonymous, that you take a good Moral Inventory of yourself?
Look at who you are and decide what changes you would like to make.
The key here is to be honest with yourself. If you do not, your subconscious will still know the truth.
Guess what?. The universe will say your wish is my command. You now have more negativity in your life.
GOD or the universe or what ever you choose to call GOD wants and expects us to be happy, prosperous and full of happiness.
Health and wonderful fulfilling relationships are waiting for you.
Now take these simple Tools and make today the first day of the rest of your life.
If you really want to be at peace with yourself and life, take the time to practice.
Daily Positive Affirmations




Starts Now



I have given you some very powerful things to think about. Mark tomorrow on your calendar and keep track of the next 21 days.
Experts say that is all it takes to turn a practice into a habit. So lets get up 30 minutes early and Pray, Meditate, and do your Daily Positive Affirmations.
This will help set the Law Of Attraction into Action.
For more Insight on Affirmations visit one of my friends.
Please fill out the form below and I will send you, Once a week a personalized Affirmation.
Say this affirmation daily. Really think about what you are saying. Feel it in your body, put a smile on your face and know that it is Now Manifesting in your life.
When filling out the form below, Please take the time to,
Tell me a little about yourself.
If you are in some type of discomfort, this would be helpful to know.
Any time you feel you need my assistance, please contact me.
Do not forget these are personalized, so the more you tell me, the more Powerful the Affirmation.
I will also be praying for you daily.
This is your life make the most of it
Blessings, Your new friend, Rev. Bill
"Being fully present in each moment is the doorway into another consciousness. 
Be Here Now
"Ram Dass"
Go To Daily Affirmations Explained
Leave Daily Positive Affirmations